Safety is Our First Priority
United Power provides no-cost safety demonstrations to schools and local organization to raise awareness of the dangers of electricity. Using a variety of different scenarios, our special demonstrations teach these dangers and how to deal with situations when electricity is involved. 
High Voltage Demonstration
As electrical linemen will tell you, safety plays a critical role in their everyday work. Linemen understand years of experience won't replace safety procedures in the field – no matter how many installations, upgrades or repairs they have under their belt. Neglecting the most minor precaution can result in serious injury or worse. 
More than 12 years ago, Bill Hottel was part of a four-man crew working on a system upgrade near Longmont, when he came in contact with a power underground switch cabinet. 
While working underneath the switch cabinet, Hottel noticed a loose bolt above his head and reached up without his gloves to tighten the bolt thinking the line was dead. He took more than 7,200 volts to ground, and had to be airlifted to North Colorado Medical Center in Greeley in critical condition.
Hottel had been working as a lineman for United Power for more than 14 years when he had his accident. He will tell you no amount of experience replaces safe practices when working around high voltage equipment, and his accident was avoidable. 
Since then, Hottel has traveled the state sharing his through through United Power's "High Voltage Demonstration" trailer. Hottel and a team of United Power linemen use the trailer to teach safe practice around electricity to community groups, schools, first responders and other industry groups throughout Colorado, using a variety of props to simulate real life scenarios.
Scheduling a High Voltage Demonstration:
To schedule a live High Voltage Demonstration for your community group or organization, please contact Mike Robinson, Safety Specialist.
Phone: 303-637-1274
Email: Ken McFadden
Table Top Safety Demonstration
United Power also has a safety presentation designed for younger audiences. The Table Top Presentation uses a smaller scale version of a larger electrical system (pictured) to demonstrate safety around power lines. Kids are able to see first hand how an electrical current moves through various items they may encounter in their daily lives, presented in a fun and easy to learn format. 
Schedule a Table Top Presentation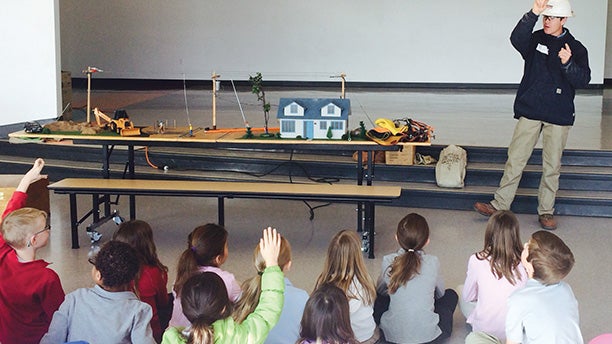 Scheduling a Table Top Presentation:
To schedule a live Table Top Presentation for your classroom, please contact Julie Stewart, Community Affairs Specialist.
Phone: 303-637-1334
Email: Julie Stewart
Safety Tips & Resources
Electricity is a critical resource used to power our lives, but it can also be dangerous without proper safety precautions. For information about you and your family can practice electrical safety, visit our Safety Tips & Resources page. 
Safety Tips & Resources