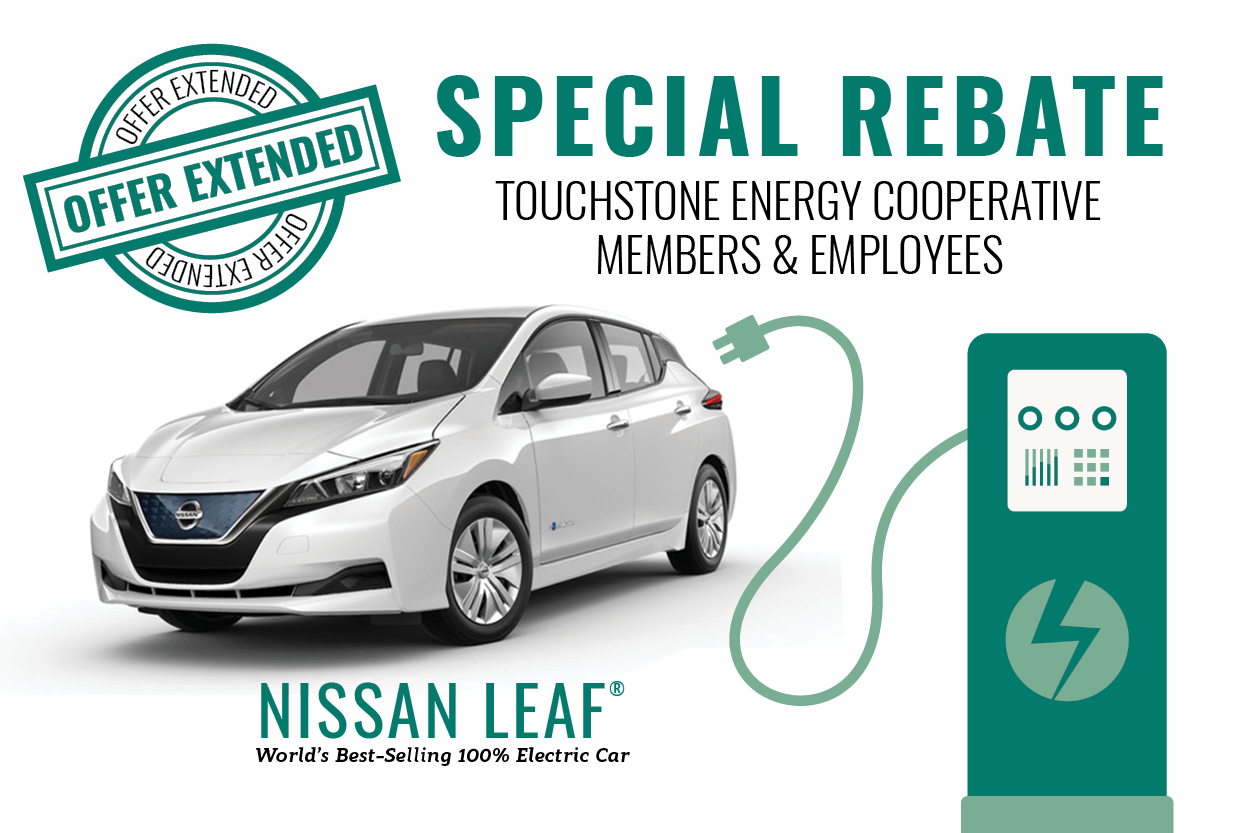 Take Advantage of a Member-Exclusive Rebate on the All-New NISSAN LEAF through JULY 1, 2019. Our friends at Touchstone Energy have been working behind the scenes to bring United Power members and employees a special opportunity to get behind the wheel of the world's best-selling 100 percent electric car, the all-new NISSAN LEAF, thanks to a rebate program that's been extended through July 1. Offer is eligible for fleet or individual purchases.
A $3,500 special rebate is available on the 40 kWh model NISSAN LEAF and a new $2,500 rebate is available on the 226 mile range, 62 kWh, ePlus model. This offer can be combined with the $7,500 Federal ED Tax Credit to provide you with savings up to $11,000 on your purchase of a new Nissan Leaf.
Simply print this flyer (linked) and bring your electric bill and/or proof of cooperative employment to your local NISSAN Dealer and you can become eligible to use the special Fleet Certification Code to obtain your special rebate. Please see eligibility requirements for more details.
Offer expires July 1, 2019!
---
More Range, More Power, More Confidence
Consumers can now embrace the excitement of more range, more power and more tech. With 2 battery options (40 kWh and 62 kWh), and enhanced available technology, consumers can pick the car that best fits their every day needs and drive with confidence.
Join us in Making a Difference
As part of our effort to accelerate electric vehicle transportation alternatives across the United State, Nissan North America, Inc. is offering eligible Touchstone Energy cooperatives, members and employees a special incentive toward the purchase of the all-new, 100% electric, Nissan Leaf. With each qualified purchase, eligible buyers can receive a $3,500 Fleetail Rebate of MSRP, plus eligibility for a Federal EV Tax Credit, up to $7,500. State incentives may also be available.
How to Get this Great Incentive
Simply bring a copy of this flyer, both the front and back pages, along with your monthly electric bill or proof of employment to your participating Nissan dealership. This limited time offer expires July 1, 2019 and cannot be combined with other Nissan or NMAC special incentives. Residency restrictions apply.